2014 Summer Dance Camp Registration Now Available!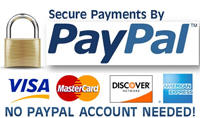 Get ready for a week of learning and fun. Everything we do is based on what we love the mostóDANCE! Tap, ballet, and jazz classes will be held everyday. You will really like making costumes, learning about the different forms of dance and participating in a performance. Creative movement activities, line dancing, the tumble track and more add to the fun.
You may pay by PayPal or by credit card by clicking the "Pay Online" link(s) below!