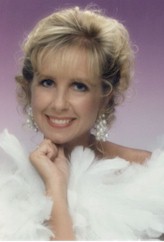 Cheryl K. O'Malley
Owner/Director
B.S. Ed., DEA, ACE
An honors graduate of Duquense University with a B.S. in elementary education, Cheryl has taught dance and aerobics locally for 17 years. Cheryl is an ACE certified fitness instructor and personal trainer. She is currently working toward her master's degree in community health and wellness. She has resided in Cranberry Township with her family for 17 years.
Cheryl's philosophy of dance education includes an appreciation for the development of the whole child. She believes that fitness and healthy living should be incorporated into the dance education program to enhance the child's total development. Discipline and commitment are stressed as essential components of success in the program, and in life. Students are encouraged to use the skills developed in dance class to participate in other school and community activities. Above all, self-esteem and confidence are promoted at all times.
Her credentials include: Member of Dance Educators of America; Cecchetti Ballet Certification; American Alliance for Health, Physical Education, Recreation, and Dance; Member of the National Dance Association; YMCA Aerobic Certification; "Aerobics with Cheryl" Fitness Program; Certified Member of the American Council on Exercise; Exersafety Aerobics Certification; Member of the National Dance Exercise Training Association; CPR and American Red Cross Certified.